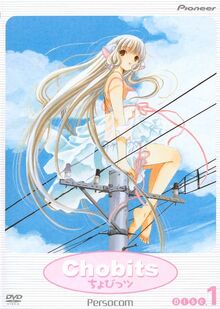 Chobits (ちょびっツ Chobittsu) was adapted into an anime television series by Madhouse. The series was directed by Morio Asaka with music by K-Taro Takanami and character designs by Hisashi Abe.
The series was broadcast in 26 episodes from April 2nd, 2002 to September 24th, 2002 across Japan, East Asia, and Southeast Asia by the anime satellite television network, Animax and the terrestrial Tokyo Broadcasting System (TBS) network.
Chobits was later released on 8 DVDs. The original episodes 9 and 18 are "recap" episodes, summarizing previous events. These episodes were re-numbered for the DVD release as episodes 8.5 and 16.5, respectively, and removed from their original sequence by being published together on the final DVD.
In addition, there is one episode and OVA made available only on DVD: a 27th episode recapping the series (numbered episode 24.5) and a 6-minute special, "Chibits: Sumomo and Kotoko Deliver".
List of episodes: Chobits Episodes Main Article.
Broadcasting
Chobits was broadcast in approximately 6 countries across various networks. At Anime Boston 2010, North-American anime distributor, Funimation Entertainment announced that they "have rescued Chobits and will release the series on DVD and Blu-ray on April 26th, 2011 & May 10th, 2011."
Country
Network
Japan
Tokyo Broadcasting System (TBS)
Korea
AniOne TV
France
Europe 2 TV
Spain

Animax España
Buzz Channel

Portugal
Animemax Portugal
Poland
Hyper
USA
Funimation Channel
Home Release
Though Chobits was never broadcast in some countries, the series was licensed and distributed as DVDs. The MVM Films distribution of DVDs had 6 DVDs, rather than 7. The "recap" episodes were removed from the sequence and added as "extra" features.
References